Italian factory: how silk scarves are made
The manufacture process is handcrafted, when scarves are screen printed,  but it is computerized when scarves are digitally printed.  However, most of the work, in both cases, is carried out by hand by professionals with years of experience in the field. 

When the factory receives the file with the design, layers are separated by color. A special printing frame, called screen, is prepared for each color. Depending on the amount of colors we would use, there may be 3, 7, 12 or more different printing frames for each scarf of course for screen printing technique. 
Dyes are then prepared by hand using Pantone palette and mixing chemical products authorized by applicable rules and regulations.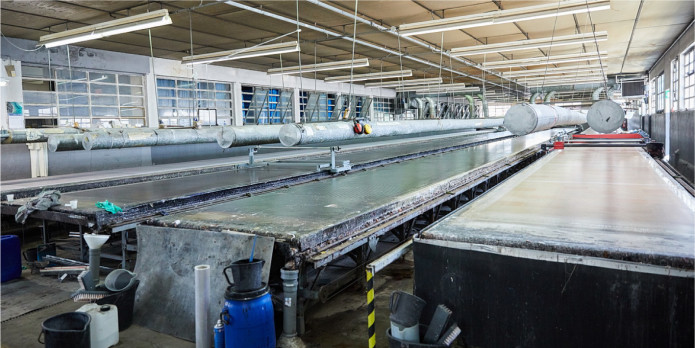 Screen printing is done  on  special long table where fabrics are stretched, and two people move the printing frames  by  carefully  introducing  dye by dye of each scarf.  Quality control is ensured in every step and, in case  of  failure, the whole process is  started over. 

For digital printing, the company receives the files, separates them into different channels, one for each color, and conveys them to the machine specifying the recipe chosen for each color. In this case all colors are printed in one step. 
After screen or digital printing, the fabric is taken to the steaming process step so that the colors are fixed onto the fabric.  After steaming, the fabric roll is washed, controlled and treated with final manufacturing details and, then, ironed, in order to confer the desired hand feeling and size to the fabric. After a further inspection the meters are cut and hemmed by hand.  So that the resulting scarf is a unique and perfect piece. 
---